Great Experiences Are Just Around the Corner
Let's Move In Together! Collins Crossing is a vibrant apartment community located on the Chapel Hill Transit J-Bus Line and 1.7 miles to UNC. We offer spacious two or three bedrooms apartment homes, or lease by the bed options with free roommate matching.

Check out our community page and give us a call today!
Announcements
Refer a friend today! Check out our resident referral program.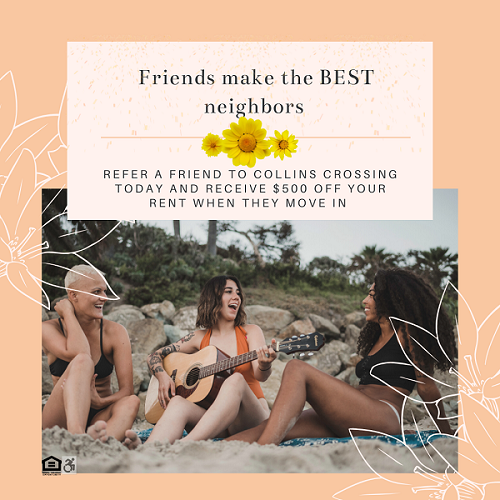 Bulletin Board
Alexandria Minarik
04/17/2020
Hello Collins Residents! Welcome to your connection to other residents here at Collins! This bulletin board can be used to post updates, ask questions and maybe even make some new friends within the community. All posts will be approved by the staff here before anything is public- so make sure to be appropriate, be nice & have fun! Many of you have asked if any other Residents here have services available such as hair cuts, day care, barbers etc.- If anyone is offering services, or would like to offer- it would be great to put any information here on the Bulletin :) Have a wonderful Friday!
Testimonials
I went to UNC and have lived in several different communities since I graduated, this one has the best set up and convenience for Carrboro. The office staff I think are super pleasant to chat with and always helpful. I see a lot of my neighbors at the gym and we wave and chat. I enjoy living here, and can

- - Resident
I have lived here for almost a year now and I have loved every minute in this neighborhood. The front office staff have greeted me by name since day one and have always treated me kindly. The maintenance staff goes above and beyond for you if you give them the chance to. The price is right for this neighborhood!

- - Madalyn P.
I was supposed to be subleasing with a young lady, but plans changed. Kelly, the leasing manager, was very attentive to my needs. She was very polite, as well as the rest of the office staff. They treat you with respect, will get in contact with you, and will do everything to accommodate to your needs.

- - Diana O.
I love the all the staff here , they are so friendly and helpful. They go above and beyond for their residents with different things they offer from breakfast to gift wrapping station for Christmas.

- - Norma A.
Kelly has helped me a lot since I came to live here has made me feel happy and comfortable, is very friendly and is always there to help solve my questions and concerns! she is the best one !!! By the way collins crossings is a very nice place to live!

- - Resident
I have loved living here since I first moved in 2 years ago! I went with their roommate option and they matched me with a great roommate. Their distance to town and the University is the best part. The staff go above and beyond to make my time here awesome!

- - Resident